Description
The Grundorf G-Spot will definitely get the party started!
The Grundorf G-Spot is used for concealing your LED uplight effects, but not the illumination. The G-Spot comes equipped with a tee-nut for securing the light fixture and folds for compact transportation. The G-Spot is constructed with a sturdy wood frame and durable black carpet finish.
• Light weight
• Capacity: Conceals lights up to H: 11.75" W: 9.5" D: 9.5"
• Dimensions Closed H: 4.25" W: 11.25" D: 11.75"
NOTE: Light fixtures sold separately from your favorite retailer.
Need an easy and fast way to transport your G-Spots?
Check out the G-Spot Transport Case here!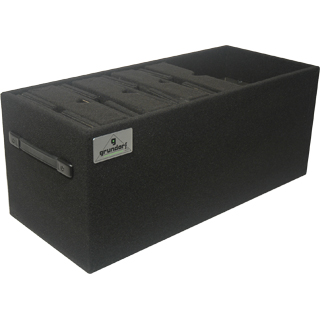 CAUTION: Never expose to excessive heat. Keep all heat sources at least 2-3 inches away from all G Series products.
Delivery & Returns
At Gear Club Direct, we want you to be happy with your purchase. We understand that there are times when once a product is received, it may not be what you needed or wanted after all. So, we will gladly accept your qualifying return within 15 days of the delivery date. After 15 days of the delivery date, all sales are final. 
The Return Process
Customers are required to obtain a Pre-Authorization to return any product. To submit a request for a return, simply log in to your account and request a return and one of our sales representatives will contact you within 24-48 business hours. If you do not have an account with us, please open a help ticket, providing as much detail as possible and whether you are requesting a refund or an exchange.  READ MORE